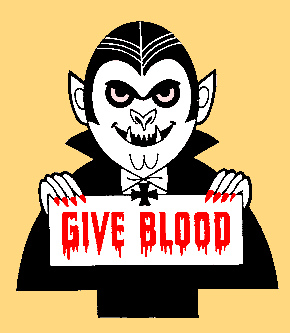 Vampires at WOSS?!
Nov 18, 2014
During the first three weeks of October, there were some rather pesky vampires wearing oversized Canadian Blood Services (CBS) t-shirts, going around asking for blood. Before you panic, let me tell you that they seemed human, and I later found out it was for a blood donation camp taking place at WOSS.
After a week's worth of bugging and finding donors aged 17 and above, WOSS CBS had a Blood Type Event on October 16th. 71 students were typed, and over 45 more signed up to donate. Members were over the moon about the astounding number of people that came. And then came the big day; Clinic Day. On October 21st, the donors of WOSS donated 55 usable units of blood. Unfortunately, not all the donors that signed up were able to donate. This is because some of them had low iron levels or high/low blood pressure.
There were the first time donors who didn't seem the least impressed by the little sticker they received saying 'first time donor', probably due to discernible fear on their faces. The volunteers did their best to cheer them up. Then there were the second time donors who would like to have thought that they knew everything about the whole process! They were the confident donors who probably donated almost every 8 weeks. They walked in, smiling, donated blood and walked out. And then, there were the teachers. Each one sat casually in the waiting area. They'd walk up to the bed, get the needle in their arm, wrap it up in about 15 minutes, sit down for a millisecond and leave with just a bottle of water! How on earth do they do it?
Many said they could have potentially donated, but were terrified of needles. That's a comprehensible fear. But the figure of 55 units of blood could potentially save a victim of car accident! WOSS just saved a person! Thanks to all the donors!
Several patients are in a fight between life and death daily. It's about time you think about what really matters. So give a little, help a lottle (it's a little, but a lot!) It's not only in you to live, it's also in you to give.
Written by: Megan Swargam
Edited by: Vidhi Joshi