A promposal is a self-explanatory combination of the words "prom" and "proposal". A promposal occurs when a high school boy or girl works up the sufficient courage to ask a friend or love interest to attend prom with them as a date.
The Promposal
Mar 23, 2014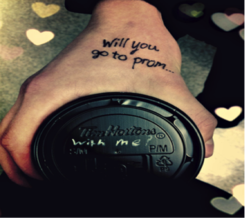 Prom. A word that evokes mixed feelings in all teenagers. Although the event too can be quite nerve-racking, most teenagers would agree that the dreaded 'promposal' is the scariest part of the experience.
Over the past 50 years, promposals have become a cultural tradition around high schools and many students anticipate them with great excitement each year. There have been many outrageous, zany ideas that have been used for promposals, including anything from cheesy pizzas to male twerking. Multiple blogs, webpages and 'how to' pages have been developed to assist the average high school student into asking that special someone to prom.
Promposal season usually begins around late March to early April, depending on the high school. Here at WOSS, we have some legendary promposals that have cemented themselves into school history, for example, the now renowned 'Principal Call-Down' promposal that took place in May 2012. The 'Principal Call-Down' promposal involved the girl of choice being asked down to the principal's office, scared out of her mind only to discover her boyfriend sitting in the principal's chair.
I know what you're thinking. Quite extravagant, eh? In reality though, kids go to all sorts of lengths when promposing. Anyone from a teacher to the prime minister could be involved, you never actually know.
Essentially, you should be sure that your prom choice is going to say 'yes' before even attempting any absurd promposal. Contrarily, if you are uncertain whether or not your person of interest will say yes, but you are also full of confidence and invulnerable to intransigent depression, go right ahead and ask. Who knows, you might get lucky.
Another promposal option if you are sitting on the fence, is a subtle conversation. A subtle conversation allows you to sit down with the person and monitor their emotions when alone with you. By having a subtle conversation, it saves you the embarrassment of public rejection and the other person's feelings towards you.
For those considering a public promposal, what you want to do is think of the person you have in mind and consider all their interests. Plan your promposal around these interests and most importantly, make sure it will make your person of interest feel special. Try to go onto YouTube or Tumblr and look up promposals that have already been done in the past. The worst thing would be to invest a lot of planning time into a promposal; go through with it, only to discover some kid in South California has done it before. Just be creative and organic.

A cool promposal to consider that should boost the confidence of prospective promposers is the 'Kate Upton' video promposal that was executed in 2013 by California high school student Jake Davidson. Jake posted the video on YouTube and then mass marketed it through his Twitter and Facebook pages. Soon after it's release, the video went viral, gaining over 2 million views in less than 2 weeks. The video reached worldwide newsrooms and gained celebrity status popularity.
Eventually, Kate Upton found out about the promposal through the social media grapevine, and told Jake she 'would love to go' with him on NBC Los Angeles. Although Kate was forced to turn down the promposal in the end due to scheduling conflicts, Jake still ended up going with international supermodel and friend of Upton, Nina Agdal, who stepped in for Kate finding Jake's video and confidence very 'clever and creative.' So, dreams do come true.
Our White Oaks Prom is fast approaching, and promposals are expected to commence really soon. Most likely, couples will go first this year in the asking, but you never know with WOSS. People that don't want to go through with any promposals and don't have a special person in mind per se, always have the stag option, which entitles you to go by yourself or with a group of close friends. So, get ready to either watch or ask the promposal, and whatever happens remember to first and foremost, be yourself.
By: Tyler Buchanan-Wright