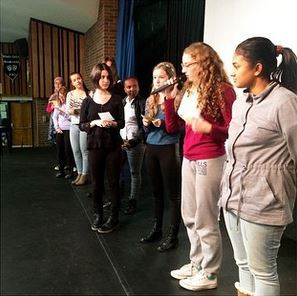 Kindness takes over WOSS!
Nov 18, 2014
Yes, you heard it right. In these first three months of school, WOSS has already hosted a couple events with the theme of kindness. Being kind is something everyone can do; it's the easiest window to find friends through. WOSS has a begun a terrific year with these events.
On October 14, 2014 there was an anti-bullying assembly held for grade 9 and 10 students. These assemblies were organized to show the importance of kindness and how it affects the people around us. There were separate assemblies for boys and girls. In the girls' assembly, a campaign named 'Kind' was introduced, which was founded in 2009. It is a non-profit organization and school program that brings awareness and healing to the negative and lasting effects of girl-against-girl "crime". The founders of Kind, Molly and Lauren, travelled around the United States recording their journey and talking to girls about self-confidence, kindness, and their experience, of which they made a documentary to show in schools. The responses were inspiring, The speakers explained that true friends will never judge you on your looks; only on being yourself and being kind to others.
Duane Gibson (also known as D.O.), a Canadian rapper and author, made a special visit to WOSS for the boys' assembly. He explained to the boys about his experience with bullying. Along with being a rapper, D.O. is also a motivational speaker. In 2001 he organized a school tour program called 'Stay Driven' to educate students about anti-violence, anti-bullying, peer pressure and many other social problems. He has continued on with this program until now and will hopefully keep doing so, to motivate and inspire adolescents, just like he did at WOSS!
Another event hosted by WOSS was the Random Acts of Kindness Day on Friday November, 7th. Many students did their best to perform acts of kindness, and show their support for the event. There are several acts one can do to show acts of kindness; some small and some big. The only component needed to be kind is to try. WOSS will continue hosting events about kindness and they will hopefully be as successful as these. So one question for you to ponder about: Is it really that hard to be kind?
"A warm smile is the universal language of kindness."
-W.A. Ward
Written by: Samia Iqbal
Edited by: Vidhi Joshi