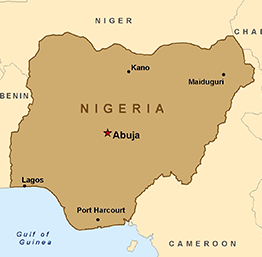 Nigeria Faces Social and Moral Peril
Mar 05, 2015
The global community has gathered and grieved for the tragic kidnapping of 200 schoolgirls in the village of Chibok, Nigeria on April 14, 2014. This time, it was done by an Islamic military sect by the name of Boko Haram (Arabic: Jama'atu Ahlis Sunna Lidda'awati wal-Jihad).
However, unlike ISIS, Boko Haram is mostly active in Nigeria; but both organisations share an outrageous belief that the western civilization must be completely ousted with Muslim beliefs. Therefore, their main targets are the 700 million Christians in Nigeria, and dare they say, the entire Christian population on this planet.
Boko Haram's main goal is to overthrow the Nigerian government and create an Islamic state that follows an extreme version of the Sharia Law. They presume that Muslims shouldn't participate in any political or social activities associated with the western society. Examples include: voting, wearing shirts and trousers, and receiving non-religious (non-Quran) education. The organisation's meaning in English literally translates to: Western education is forbidden (fake).
Under the leader, Abubakar Shekau's commands, Boko Haram has proved that they are indeed, homicidal to the rest of the world. Ever since 2009, schools and Christian institutions have been burned down, suicidal bombing occurred during rush hours in urban cities such as Nigerian capital- Abuja, and foreign Christians were kidnapped. This included a French family, an English construction worker and his Italian colleague- Chris McManus and Franco Lamolinara. Unfortunately, all rescue attempts have failed.
The global community was finally alerted when Boko Haram crossed the moral line. Three hundred schoolgirls from the village of Chibok were kidnapped and claimed to be "sold as brides to Islamist fighters for $12 (CDN), forced into labour and religion conversion, as well as being abused", by Boko Haram's leader, Abubakar Shekau. A witness in the Chibok kidnap told the Guardian that,
"When the truckloads of heavily armed militants rolled into Chibok, they split into three groups of at least 25 each. One column headed to the local government secretariat and began firing rocket-propelled grenades at the dozen or so soldiers stationed there. Another set off into the town centre, and a third approached the school."
15 year-old Lydia Togu, a student who escaped from Boko Haram told the Guardian, "We saw five men come into the compound wearing soldiers' uniforms. We were even happy because we thought they were military men who had come to keep us safe," However, the Guardian explained that after the girls had all gathered together, the men began shooting into the air and shouting "Allahu Akbar" (God is greatest), she said. They raided the school supply stores and then forced the girls at gunpoint to march for an hour into the forest, where trucks were waiting. Lydia said, "I thought my end had come,"
What really broke the hearts of the parents of these schoolgirls and the entire Nigerian population was the slow response and action from the government. Not only have they failed to rescue the girls; but Goodluck Jonathan, the Prime Minister of Nigeria, made his first visit to the parents after 3 months of the kidnapping. No Nigerian military actions are being sent out to combat Boko Haram, which led to a massive protest of a million women in Abuja and a global campaign under the name of #bringbackourgirls. So far, air searches conducted by the US and small groups of experts are sent to Nigeria by Britain to search for the schoolgirls. "This is an act of pure evil." said David Cameron, Prime Minister of Britain, "It has united people across the planet to stand with Nigeria to help find these children and return them to their parents."
On Jan 8, 2015, Boko Haram's deadliest massacre took place in Baga, Nigeria. About 2000 people were killed, most victims were children, women, and seniors. A few weeks later, the wrath of Boko Haram has extended out into Chad, a neighbouring country where 10 villagers were killed. In response, the African Union has finally decided to send out 7500 troops (a joined force from Nigeria, Cameroon, Chad, Niger, and Benin) to combat Boko Haram. US and Iran will provide technical and equipment support, along with training the troops.
Upon their general beliefs, Boko Haram's spokesperson, Abu Qaqa stated,
"We will consider negotiation only when we have brought the government to their knees. Once we see that things are being done according to the dictates of Allah, and our members are released [from prison], we will only put aside our arms – but we will not lay them down. You don't put down your arms in Islam, you only put them aside."
"If [security forces] are going to places of worship and destroying them, like mosques and Quranic schools, you have primary schools as well, you have secondary schools and universities, and we will start bombing them."
"There are no exceptions. Even if you are a Muslim and you don't abide by sharia, we will kill you. Even if you are my own father, we will kill you."
The complex terrorist organisation in the Middle East proves that Boko Haram is not acting alone. Allies include groups from neighbouring countries such as Chad, Cameroon, Niger, and even Al-Qaida. "Al-Qaida are our elder brothers. During the lesser Hajj [last August], our leader travelled to Saudi Arabia and met al-Qaida there. We enjoy financial and technical support from them. Anything we want from them we ask them." stated Abu Qaqa.
During the last year, over 10 000 people were killed and 1 million people were displaced by Boko Haram. The people are caught in the middle of a sinister military terrorist group and a unreliable government. The heart-breaking tales told by parents of the kidnapped schoolgirls bring us wondering, when will the people in the Middle East ever see a day without terror, chaos, and full of freedom and kindness?
By: Lanxin Jiang