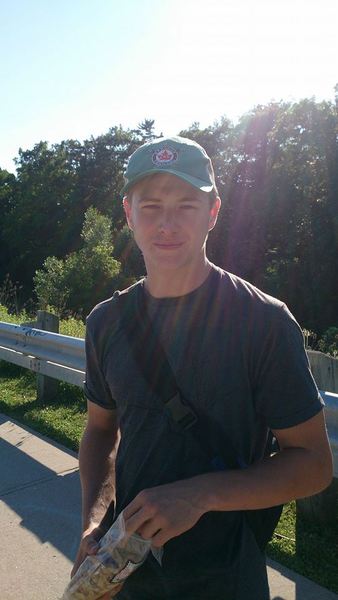 Know Your Wildcats: Kellan Royds
Mar 05, 2015
The sport of wrestling is perceived very differently in the eyes of every individual. There is the World Wrestling Entertainment (WWE) where there are 'professional wrestlers' pretending to throw each other into tables, smash each other with chairs and choke slam their opponents into oblivion. Then there is the free style wrestling, which Kellan Royds excels in. Wrestling is a combat sport involving grappling type techniques such as clinch fighting, throws and takedowns, pins and other types of holds. A wrestling bout is a physical competition, between two competitors or sparring partners, who attempt to gain and maintain a superior position over his opponent. Kellan is a grade 11 student here at White Oaks who loves to win. Royds makes sure to hit the gym almost everyday in order to improve not only his strength, but his ability on the mat. Wrestling became part of his life after turning 15. He had spent much of his life playing sports he didn't necessarily love such as rep soccer and basketball, and wanted to find something he wouldn't complain about going to practice. Karate was one of Royds' specialties, so joining wrestling was an easy decision for him.
During this season, Royds has achieved a lot of success in the tournaments he has participated in. He is currently posting a record of 8 wins and 2 losses in 10 total matches and finishing in a respectable second place in one of his better outings. Most of his success comes from training with Jackson Richardson who he believes makes him a better wrestler. "Jackson is the kinda guy that won't take anything from anyone. When he gets angry, you aren't winning the match, no question."
I was able to sit down with Kellan and ask him a couple questions.
What is your weight class?
I like to fall in the 77 kg class but I intend to wrestle in the high 80's division next year.
What is your pre-match ritual?
Listen to music, get myself into the mindset, practice what I am gonna do in my head, all the basic things every athlete goes through before they go to war.
What do you do in the off-season to prepare?
A lot of weight training and yoga, I'm planning to regularly attend practices at McMaster and go to a lot of camps, it helps to do another sport as well to just improve your all around athletic ability. Just improving your technical ability along side your explosive strength.
What's the hardest thing about wrestling?
Its for sure an all-around difficult sport, you need lots of flexibility and lots of strength along with very good conditioning. There's a huge technical element to it which takes lots of practice but overall just the ability to grind and tough out the pain but also being able to keep going is the quality amongst wrestlers that separates the winners from the losers.
What is your record this season?
I have missed a couple tournaments this year but until my shoulder got separated I was 8-2, (I'm not counting my last match as a loss because I think I could've won it). Overall in my high school career I think I have a record of around 25-12, but I believe I am way better then I was just a year ago.
Do you have a big rival or a school you prepare much more for than other competitors?
Yeah, it was a wrestler from Craig Kielberger who was just demolishing everyone, he's been wrestling for 8+ years and that was my biggest challenge in Halton.
How many hours of practice do you put in?
Usually about an hour and half long practice five days a week, ideally. I don't know the amount outside the mat, but I do spend a lot of the time in the weight room.
Who is your strongest, most capable member of the team right now?
Jackson Richardson, he beats me sometimes, I beat him sometimes so it's great to have a training partner who challenges you.
Why did you decide to get into the sport?
Well, it is the primal form of combat so it had been something that I had wanted to try for a long time. It sort of all started when I watched the movie Hercules. I discovered one of my idols. I thought it would be pretty awesome to follow in his footsteps so I decided to pursue that dream. Shout out to my main man Herc!
On Saturday February the 7th, Kellan was hit with the injury bug and dislocated his arm during one of his matches. He showed a lot of persistence trying to pop it back in and go on to his next match but the doctors would not let him compete. After spending a couple of hours at the hospital, Royds was given the news that he was done for the season. "I was disappointed at first, but there is always next year right? I'm just going to nurse my arm as best as I can and train even harder to hopefully win a couple golds!" With Jackson Richardson moving off to university next year, Kellan looks to be a role model for this growing White Oaks wrestling team.
By: Logan MacNeil