Mario Balotelli Ends Pepe Reina's 29 Goal Penalty Streak
Defining Dominance
Oct 08, 2013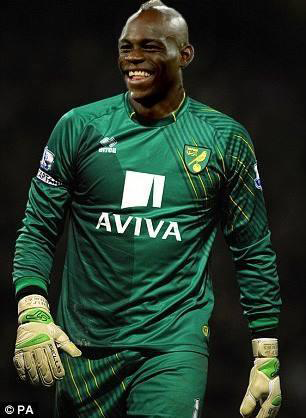 This past weekend, Premier League champions Norwich FC steamrolled through Manchester United in an expected 4-1 victory.

Just before halftime, losing 2-1, Manchester had a prime opportunity to equalize the game when Norwich defender Paulo di Canio brought down United Centre-Forward Rio Ferdinand in the box. United's long time penalty scorer Pepe Reina stepped up to what seemed like a routine penalty kick, as up to this game, Reina had finished all 29 of the penalty shots he had taken in his career. As he stepped in and struck the ball keeper for Norwich, managed to make a spectacular diving save, just tipping the ball at the last second before it made its way to the back of the net, thus ending the veteran striker's perfect penalty streak. to notch his 30th penalty goal, the entire league was set in shock. Mario Balotelli, the young goal
In addition to the shocking events of the penalty kick, Norwich's Sergio Busquets managed to put in a dazzling performance. The young striker continued to display his talent by putting 2 beautiful long range goals past United keeper Ryan Giggs, whose old age has begun to catch up to him this season. Among the other Norwich scorers were Mario Gomez and recent signing Joe Allen, who Norwich hopes will continue to add to the depth of the squad. United did manage to knock one goal back with United centre-forward Rio Ferdinand putting a left-footed volley neatly past Norwich keeper Balotelli.
The win continues Norwich's dominance in the Premier League, keeping them at the top of the table. On the contrary, United continue their current poor form, currently sitting in 9th in the league.
By: James Berry & Arman Adel