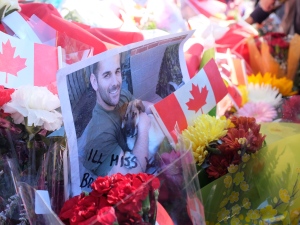 The Ottawa Shooting : A Strong Nation
Nov 17, 2014
The week of October 19th played host to a tragic event, and in turn has affected our nation forever. The streets of downtown Ottawa echoed with gunfire, due to a man named Michael Zehaf-Bibeau. The shooting started at Rideau Centre, and moved toward Parliament Hill. Throughout this shocking event, two Canadian soldiers were shot and killed. Patrice Vincent, was shot on Tuesday, October 21, he was only 53 and was planning on retirement. The next day, Wednesday, October 22, 25 year old Nathan Cirillo was shot and killed. He was guarding the National War Memorial when gunman Michael Zehaf-Bibeau shot him. Moments later, Michael Zehaf-Bibeau was shot dead near the House of Commons. As Canadians, we will not forget the events of that week, and more importantly the soldiers who sacrificed their lives.
After receiving the news of what happened in Ottawa, I really did not know how to react. My initial thought was that it was horrible, but how does it affect me? I didn't think much of it until I went home, and went on Instagram. I noticed that there were many pictures of Parliament Hill with the hashtag "PrayForOttawa". It got me thinking that what happened maybe doesn't affect me personally, but it affects me as a Canadian. This is because, it is something that will go down in Canadian history as a shocking, tragic day for Canada. I believe that a lot of people my age think that just because it didn't happen to them, that it just doesn't matter, but that is not the case. The point that should be taken away from this event is that since it happened in Canada, we as Canadians need to stand together to show what a strong nation we are. A lot of times, I think we take our country for granted, in the sense that, we don't think something like this could ever happen in a country that holds the reputation of being so safe. But as Canadians, we need to support Ottawa to show them that they are not alone.
I've talked a lot about standing together as Canadians, to show that we are a strong country. The importance of this should not be underestimated. If we all support each other, terrorist acts like these will not destroy us, but will only make us stronger as a nation. A big way to do this, is with social media. This is extremely effective towards the ages of 9-19 because they spend most of their time online, You don't see many 12 year olds watching the news, but you can often spot them on Instagram or Facebook. These mediums of social media grip this demographics attention, and are often where they attain details regarding the news.
In my opinion, the Ottawa shooting was extremely painful and shocking. But I strongly believe that it is a great opportunity for Canada to unite and get through this together.
By: Hannah Winter