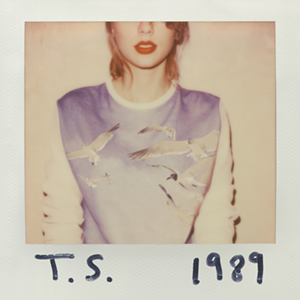 Review of 1989 - Taylor Swift
Nov 17, 2014
Count back from today to 1989 and you get a quarter century. After countless songs about being young, Taylor Swift isn't afraid about baring the fact that she's getting older. In fact she's slapped it on the cover of her fifth album 1989, for the whole world to see. Gone is the country songbird and in her place a "poptimist," which is actually not surprising at all. Even on her earlier tracks like "Fearless," "Love Story," and "Our Song," she seemed more like a pop star than a country musician. Now she's moved on from Nashville to New York and she's "shaken off," all her country influences.
Now I'm not saying that's a bad thing, because it's quite the opposite. 1989 talks about finding our new selves and leaving the old selves behind, living in a new city and of course this wouldn't be Taylor Swift without heart break. But she's moved on from the immature crying to a slightly neutered heartbreak and that has made all the difference.
"Welcome to New York," the third single from 1989 and the opener of the album opens our eyes to what Swift is really trying to say. She isn't talking about the image of New York in everyone's minds but of the story behind it. "We first dropped our bags on apartment floors/ Took our broken hearts, put them in a drawer," she sings. But Swift's song writing has moved to show us a darker side of her. "Blank Space," arguably one of the best songs on the album gives us something more along the likes of Lorde with its mid-tempo jam and catchy melody. The melodies on 1989 are fast and heavy against hip-hop beats and'80s bass lines. "Shake It Off" is anoutsider to the album's energy. Elsewhere, she's thinking over past mistakes and looking for new ones. "Out of the Woods" spills with love-struck anxiety. Let's not forget "Style," rumoured to be about her high-profile relationship with Harry Styles."You've got that James Dean daydream look in your eye/ and I've got that red-lipped classic thing that you like."
Overall, Taylor Swift seems to retain her Swift-ian charm, but in a grader manner, but at the same time there seems to be less of her present and more of a greater pop influence. 1989 seems to deserve 3 out of 5.